Yoga Classes in Ibiza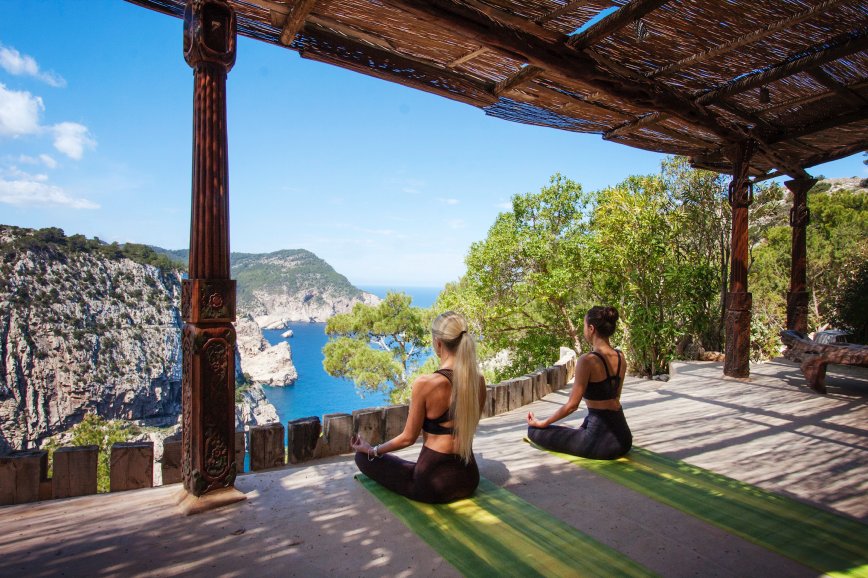 Our Yoga teacher proposes three type of classes. One to build strengh, one to enhance balance and connectedness, and one SlowMoFlow to practice being fully immersed in the moment. You may chose your class with your Yoga teacher directly.
The Yoga classes are available individually or as a package for a full Spa experience in Ibiza.


For more than 8 guests, please contact us: +34 971 33 40 70 · info@laposidonia-ibiza.com
✕
Yoga 1 hour & 30 min
A unique & exclusive experience of a full body session of YOGA. Release tension, free the mind, align your energy, and strengthen your body to unleash your creativity.

Cancellation policy
Modification and/or cancellation free up to 24 hours in advance. Conversely, the total will be charged.
Privacy and security policy
All electronic devices (including cameras & smartphones) are forbidden in all treatment areas.
Power Vinyasa-open level
Power Vinyasa Open level aka Cosmic Horsepower. Get your heart rate up in this challenging, dynamic and flowing class. Designed to get you out of your head and into your potential. All aspects of the Vinyasa practice will be examined. Learn the fundamentals of breath, drishti (focus) and bhanda (joint stability) venture into arm balancing and inversions. This beginner friendly class will open the door to build incredible strength, develop rock solid mental focus and leave you ready to take on the world!
Yin
Study the more elusive and subtle energies of your body through the Yin practice. Yin yoga focuses on the avascular non-contractile tissues of the body. Get grounded through gravity and time. In these longer held asanas the connective tissue, myofascial lines, tendons and ligaments are all stimulated to promote a vibrant, healthy and balanced skeletal structure. With a strong emphasis on conscious breath and mindfulness, yin plunges deep into inner space to bring you back to a blissful state of connectedness. Yin balances the Yang and one without the other is incomplete.
Slow Mo Flow
In Slow Mo Flow we stretch time. By moving slower through this class the experience shifts into the macro movements of your body. This trains balance, builds strength and develops precise control over anatomical movements. When we slow down we feel more, think less and practice being fully immersed in the moment.
---
La Posidonia, Spa Ibiza offers yoga classes in Ibiza for one client or large groups, to celebrate an event for example. The team offers you a tailor-made yoga class or a choice of three types of classes in order to achieve different results. Yoga classes are offered in the majestic amphitheatre of the Hacienda Na Xamena, Ibiza if the weather permits it, or in an indoor room. Yoga classes are private, though for guests of the beautiful Hacienda Na Xamena, Ibiza resort we offer group yoga classes as a courtesy.